2 night EDM cruise Bahamas
The Electric Ship PROMO CODE hotel411

The Electric Ship EDM cruise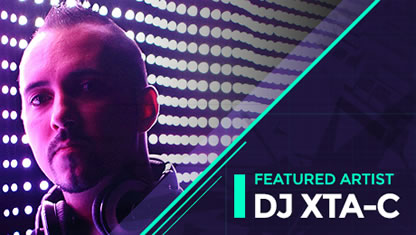 Danny of DJ XTAC edm patries takes to the seas on a 2 night party cruise to the Bahamas. The Electric Cruise has spacious cabins and balcony suites, 5-star dining with the times you choose, outstanding service throughout the ship, top notch entertainment in our state-of-the-art theater and throughout the ship, casino, spa, five pools and jacuzzis and so much more.
Las Vegas style Variety ShowsThese two great shows will be available for free in the 850 seat performance theater on every cruise in February and March! In addition, talented singers and musicians will be performing in various ship locations throughout the cruise..
The Electric Ship Edm Cruise presents the lineup for the ultimate 2 Night Edm Cruise Party:
EDM cruise lineup
Crizzly
Jackal & Hyde
Morsexcode
Laser Assassins
Weplayhouse
DJXTAC
Prizm
Jennifer & Marley
Lucas Larvenz
Cashae
Fixed
Joseph Scharf
Tomme
Terminal Velocity
EDM cruise lineup
Goon
Dubway
Avian
Universe Zero
Paper Mushrooms
SPVO
Carlos Angels
RAW
David Raven
4REAL
U4euh
Portalz
Nghtkrawler
Wyte Wolf

---
Electric Ship EDM cruise
The Electric Ship 2 night edm cruise party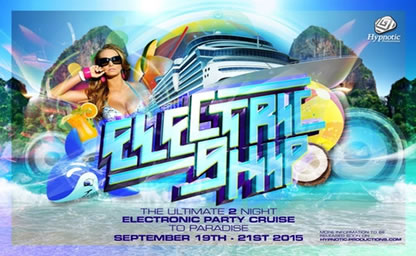 The Electric Ship is aboard one of the finest cruise ships to ever sail out of the Port of Palm Beach destined for the Bahamas. The Grand Celebration! (Pictured Above). There is a large pool deck with five swimming pools and jacuzzis, a luxurious spa and wellness center, a Las Vegas style casino with a wide variety of slots and table games not found at many land casinos, eight bars and lounges, a state-of-the-art performance center with live shows, duty free gift shops and an age appropriate kids club. Below are some numbers that may be of interest: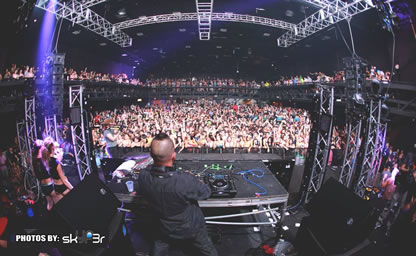 Danny from XTAC gives you 43 hours of pure EDM party music on a 2 night cruise to the Bahamas. 751 Cabins and suites, 61% of the cabins are ocean view, The 2 night Bahama cruise can hold 1,800 passengers, The cruise ship has 9 passenger decks, There are 575 ship crew members to serve you, 11 Bars, Louges and Restaurants, Unlimited amounts of fun, rest and relaxation.
43 hours of pure edm cruise party
---
The Electric Ship
The EDM cruise party of the summer is headed to the Bahamas... again!
South Florida's Premiere 2 Night All-Included EDM Cruise Party to the Bahamas has garnered the attention of thousands throughout the state! Hop on board a state of the art Party Cruise Ship, designed to cater specifically to festival goers while incorporating the comfort you would expect from a vacation aboard a major cruise liner.

Enjoy your 2 night stay traversing some of the world's most beautiful Ocean space while our Electric Ship Djs Electrify the Dance floor non stop until we reach our destination in the Grand Bahamas. Here you will disembark onto a flavorful and energetic Island free to embark on excursions, shop, snorkel, jet ski, or kick back and enjoy a drink in the sand.

Party Details Your 2 Day Party Adventure is an All-Inclusive Trip that includes the following amenities!
There will be exclusive private party areas on the ship
44 hour non stop party, even when everything else is shut down on the ship
Free yoga classes
35,000 watts of sound by Hypnotic Productions
Full Concert Laser Experience by Hypnotic Productions & Full Color Lasers
Concert Video walls and Lighting
Cabin included in price
Meals included in price
Taxes and port charges included in price
What To Expect Bahamas Paradise 2-Night Bahamas Cruise Our goal aboard the ship is to help you enjoy your experience in every way possible, Unwind at sea with soft ocean breezes, beautiful vistas and a cool drink in hand and as we provide you with all the food, fun and all entertainment you can handle.
---
Come to the EDM cruise party
As South Florida's only year round 2-night Bahamas cruise our 6:00 pm departure time and morning return to West Palm Beach adds to convenience for passengers who work or need to coordinate flights. Even though we depart at 6:00, the onboard fun and boarding begins just after noon!
Some of the cruise highlights include savory food selections with flex-dining options in four restaurants including 5-star dining, outstanding service throughout the ship, a luxurious spa and wellness center, a pool deck with five pools and Jacuzzis, several bars and lounges with live music, a large casino with a variety of slots and table games including many not found in Florida casinos, a State-of-the-Art Performance Center with a variety of exciting live shows and concerts, children's activities and a full day in Bahamas.